About Invisalign
Sakowitz Smiles Orthodontics is proud to offer Invisalign for our patients! Invisalign straightens your teeth without using wires and brackets. Instead, it uses a set of clear, custom-made, removable appliances called aligners. It's almost impossible to tell, so virtually no one will notice that you're straightening your teeth.
What Is Invisalign?
The Invisalign System blends modern 3D computer graphics with the science of orthodontics, which has been around for over 100 years. Invisalign aligners are made to move your teeth in small steps until they are in the position your orthodontist wants them to be in at the end. At each stage of the treatment plan, each aligner is carefully measured and made to fit your mouth. You can request a free consultation with our orthodontic office to find out if Invisalign in Orlando, Lake Nona, and Winter Garden, FL, is right for you.
Dr. Sakowitz is a Board-Certified Orthodontist and Diamond Invisalign provider in Orlando, with offices in Lake Nona and Winter Garden, FL. Although all Invisalign providers are trained and certified, very few receive the status of Diamond Provider. Diamond status means our orthodontics team is in the top 1% of all Invisalign providers in the country. This puts our skill and experience at a level you can feel confident about.
How Does Invisalign Work?
Invisalign uses a series of clear trays to move your teeth into proper alignment. Each set of aligners is worn for about one week and is only taken out to eat, brush, and clean. As you switch from one aligner to the next, your teeth will start to move slowly, week by week, until they are in the final position.
Invisalign offers a more aesthetic, hygienic, and comfortable alternative to braces. Invisalign's removable clear plastic teeth aligners make it virtually impossible for anyone to notice that your smile is being treated.
At Sakowitz Smiles Orthodontics, we also provide all of our patients with a custom-made case from Invisalign to properly protect your trays while they are not in place. If you are interested in even more customized orthodontic treatment, Invisalign stickables are available for purchase so you can accessories your aligners! These stickables include fun shapes and emojis with design options such as Sports, Travel, Animal, Holiday, Food, and more!
In-House Aligners
Another innovative orthodontic treatment used at Sakowitz Smiles Orthodontics to straighten teeth is in-house aligners. Similar to Invisalign, we start by creating a digital impression of your teeth. Then, utilizing cutting-edge technology, we design a treatment plan that gradually puts your teeth into their proper position.
We use 3D printing to create a series of clear aligners for you to wear for 20-22 hours every day. Each aligner is unique, and when worn, it softly adjusts your teeth per the treatment plan. You will routinely meet with Dr. Sakowitz for adjustments, where you will be given the next set of aligners.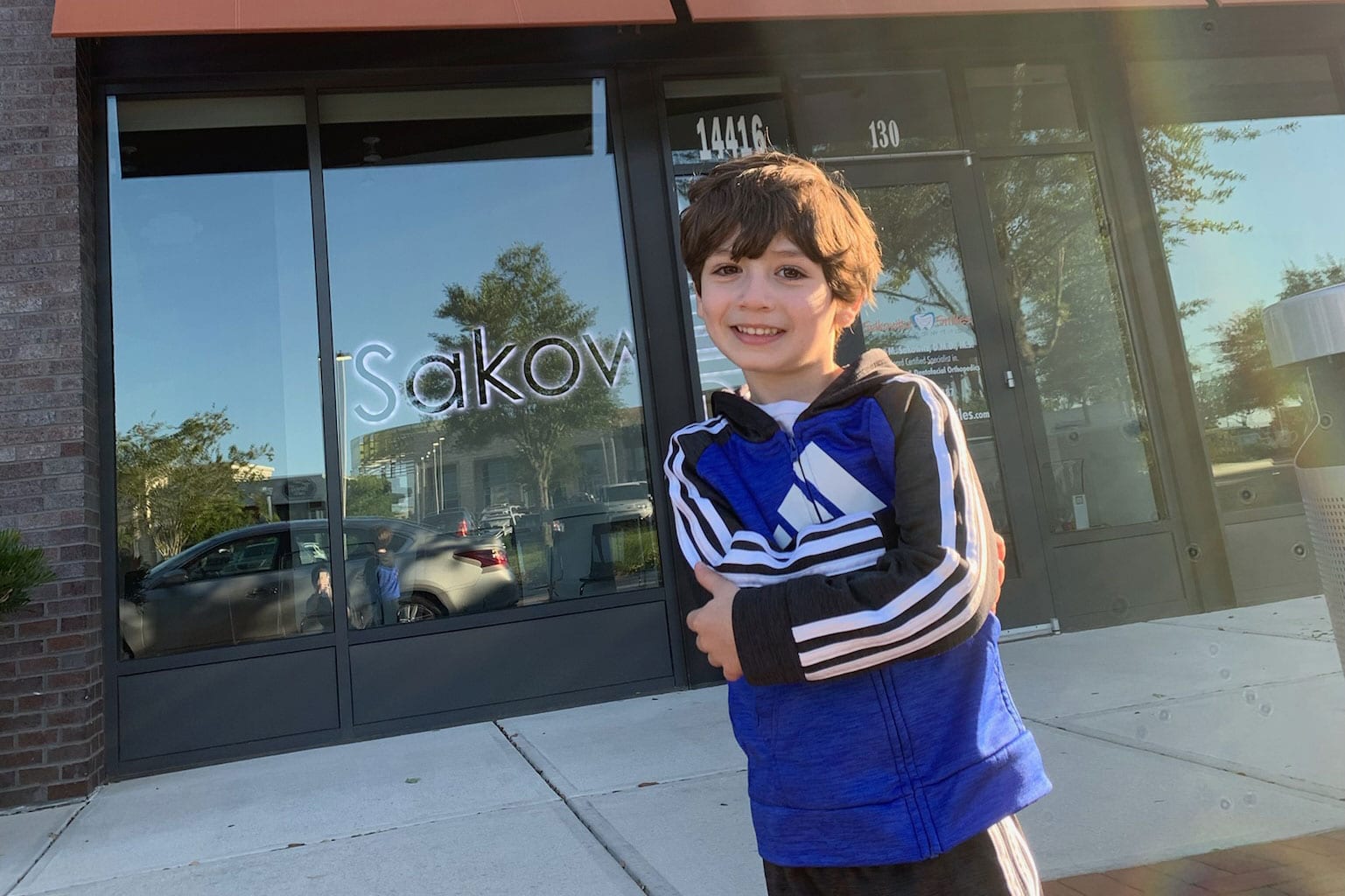 Invisalign For Kids
Common Signs Your Child May Need Orthodontic Treatment
While you may be familiar with Invisalign as an effective orthodontic treatment for adults that uses personalized plastic aligners to gradually shift your teeth to a more desirable alignment, you may be surprised to learn that it is also an effective treatment for children!
It is not uncommon for children to experience orthodontic concerns as they mature, including:
Crooked or misaligned teeth
Gapped teeth
Overcrowded teeth
Overbite or underbite
At Sakowitz Smiles Orthodontics, our team of orthodontic specialists is adept at identifying early signs of orthodontic problems in children between the ages of six and ten. This is an ideal time for children to receive orthodontic treatment, which can effectively address these issues. During this phase of orthodontic treatment, Dr. Sakowitz can address any developing issues before they worsen.
Is Invisalign A Good Option For Kids?
While Invisalign is a great option for most, it does come down to your child's specific needs. When you schedule your free consultation with our team, we can evaluate your child's needs and meet with you to discuss the best options for your child. We will discuss what life with Invisalign will be like for your child and if both parties agree that the child can adhere to the requirements. For instance, Invisalign trays must be worn for at least 22 hours daily to be the most effective. If you feel your child is responsible enough not to take the trays out, they could be a good fit.
There are some instances where Invisalign may not be the best option for your child. For example, if your child has impacted teeth or severely rotated teeth, then it may not be the best fit. Dr. Sakowitz will perform a comprehensive exam to determine if Invisalign for kids in Orlando, Lake Nona, and Winter Garden, FL, is the best choice.
Invisalign For Teens
The Clear Alternative To Braces
Invisalign Teen offers a discreet orthodontic treatment option that eliminates the concern of visible metal braces in yearbook photos or social media profiles. Invisalign for Teens in Orlando, Lake Nona, and Winter Garden, FL, is a modern orthodontic treatment that utilizes clear aligners to straighten teeth without the need for traditional metal braces.
What Makes Invisalign Teen Different?
One of the differences with using aligners is that they are designed to be inconspicuous and can be easily removed. This allows you to straighten your teeth discreetly without any noticeable changes to your appearance. Additionally, Invisalign enables you to maintain your regular diet and eating habits without any restrictions.
In addition, it is recommended to adhere to regular brushing and flossing practices to ensure optimal gum and tooth health. This treatment option does not involve wires, metal, or brackets, which may otherwise cause discomfort or irritation to the mouth.
Dr. Sakowitz is a Diamond Invisalign provider in Orlando with convenient offices in Lake Nona and Winter Garden, FL, capable of providing a system that caters to the specific dental requirements of teens. Invisalign Teen is an excellent teeth-straightening system that is tailored to meet the needs of today's busy teenagers. It features blue-to-clear color-changing indicators that help track the duration of each aligner's use. Additionally, the system has been designed to accommodate growing mouths, making it an ideal choice for teenagers seeking hassle-free orthodontic treatment.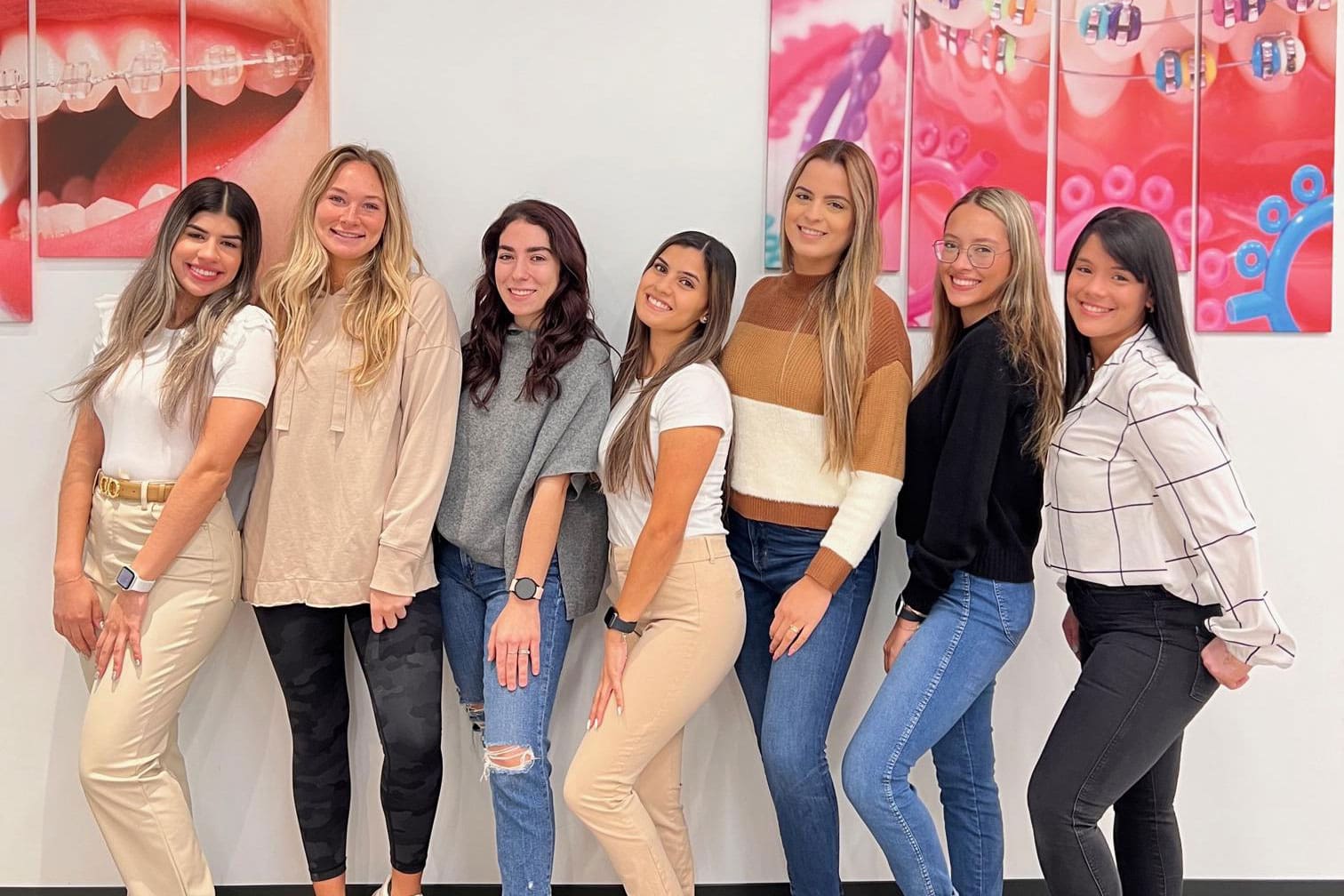 Invisalign For Adults
Trust Our Invisalign Experts With Your Smile
Dr. Sakowitz is proud to be a Diamond Provider of Invisalign in Orlando offering Invisalign treatment in Lake Nona and Winter Garden, FL. He is dedicated to delivering exceptional orthodontic care to all our patients and takes great pride in our commitment to providing the highest quality treatment.
As a board-certified orthodontist, Dr. Sakowitz leads our team of highly experienced orthodontic professionals in providing you with the comprehensive and efficient Invisalign treatment that you deserve.
Without a trained orthodontist's guidance, treatment has the potential to cause serious harm. The cost of these dangers to your dental health, from permanently lost or damaged teeth to irreversible bone loss and gum disease, is significantly higher than the monetary savings from unsupervised treatment. At Sakowitz Smiles, we can assure you that Dr. Sakowitz will see you at every visit. Continuity of care is very important to us. Dr. Sakowitz puts his name above the door and behind every smile, showing his commitment to all of his patients.
The Benefits Of Invisalign
Invisalign is an excellent orthodontic treatment option for adults with busy schedules who want to improve their smile without the inconvenience and time commitment associated with traditional braces.
Invisalign for adults offers a personalized treatment plan that utilizes a series of clear aligners to gradually shift your teeth into their desired position. This approach minimizes the need for frequent office visits and eliminates the need for regular tightening and adjustments that are typically required with conventional braces.
One of the notable advantages of Invisalign treatment for adults in Orlando, Lake Nona, and Winter Garden, FL, is its versatility. Rest assured that you can confidently achieve a straighter smile with our aligners, as they are designed to be conveniently removable at any time. In the event of an important occasion, such as a job interview or a date, you can rest assured that you won't have to interrupt your treatment plan. Simply remove the aligners, and you'll be ready to confidently tackle any situation.
The convenience of removing your Invisalign trays is also important to many patients, as it removes any dietary restrictions. Invisalign allows you to enjoy your favorite foods without worry. Maintaining your regular oral hygiene routine is also much easier because of your removable trays. Simply remove the aligners for brushing, flossing, and using mouthwash as usual.
Invisalign FAQ