Type Of Braces
The Most Popular Treatment for Your Best Smile
If you or someone in your family has been recommended for orthodontic treatment to address misalignment concerns, you may wonder what to do next. At Sakowitz Smiles Orthodontics, we understand that orthodontic treatment can seem overwhelming, but we are here to help you find an orthodontist in Orlando with convenient locations in Lake Nona & Winter Garden, FL, for the entire family. Our comprehensive guide is designed to provide the information you need to make informed decisions and address any questions you may have. First, we'll show you the different braces options available at Sakowitz Smiles Orthodontics.
Traditional Metal Braces
Metal braces are made of metal brackets that are fastened with an elastic rubber band (or ligature) to secure the archwire and bracket. Metal braces are a highly resilient and well-established treatment option that has been proven effective in addressing even the most complex orthodontic issues. Additionally, they are often the most cost-effective option and may offer a shorter treatment duration when compared to alternative orthodontic treatments.
One of the potential challenges associated with metal braces is that they may lead to discomfort or irritation of the gums and cheeks. However, most patients adapt to their new braces in just a few days. Our traditional metal braces in Orlando, Lake Nona & Winter Garden, FL, are a highly effective solution that can benefit a wide range of patients who require orthodontic treatment.
Clear Braces
Clear braces are composed of strong materials and function similarly to traditional metal braces. Clear braces are a versatile treatment option that can effectively address various dental concerns, including minor cosmetic adjustments and more complex bite and alignment issues, much like traditional braces. One notable distinction between clear braces and metal braces is that the brackets of ceramic braces are crafted from transparent ceramic material, which enables them to seamlessly integrate with your natural smile.
The ligatures, which are small rubber bands utilized to secure the arch wire onto the ceramic brackets, are transparent or white in color. It is worth noting that ceramic braces may present a challenge with staining, which can gradually increase their visibility. The best way to avoid this is to avoid certain beverages, such as coffee, tea, and dark sodas.
With appropriate attention, ceramic braces can be an excellent choice for individuals seeking an option that seamlessly integrates with their teeth and is less conspicuous than metal braces.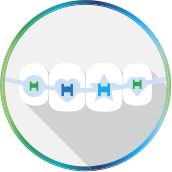 WildSmiles Brackets
We understand that achieving a beautiful smile is an exciting journey, and we are thrilled to offer WildSmiles Brackets as an option for your child's treatment. We take pride in the artistry and technical expertise involved in orthodontics. With WildSmiles, we offer your child a chance to express their unique style during treatment through a variety of fun bracket shapes.
Custom brackets can be paired with colored rubber bands of your choice to create a personalized and enjoyable smile. The available bracket designs include Mickey Mouse, stars, flowers, hearts, diamonds, and footballs. WildSmiles Braces are not only stylish, but they also serve a practical purpose. These braces function similarly to traditional braces and provide patients with reliable and satisfactory outcomes that are highly regarded and trusted.
We would be delighted to provide you with further information regarding the types of braces we offer if you reside in or near Orlando, Lake Nona, and Winter Garden, FL. Please do not hesitate to contact us to schedule a free consultation today!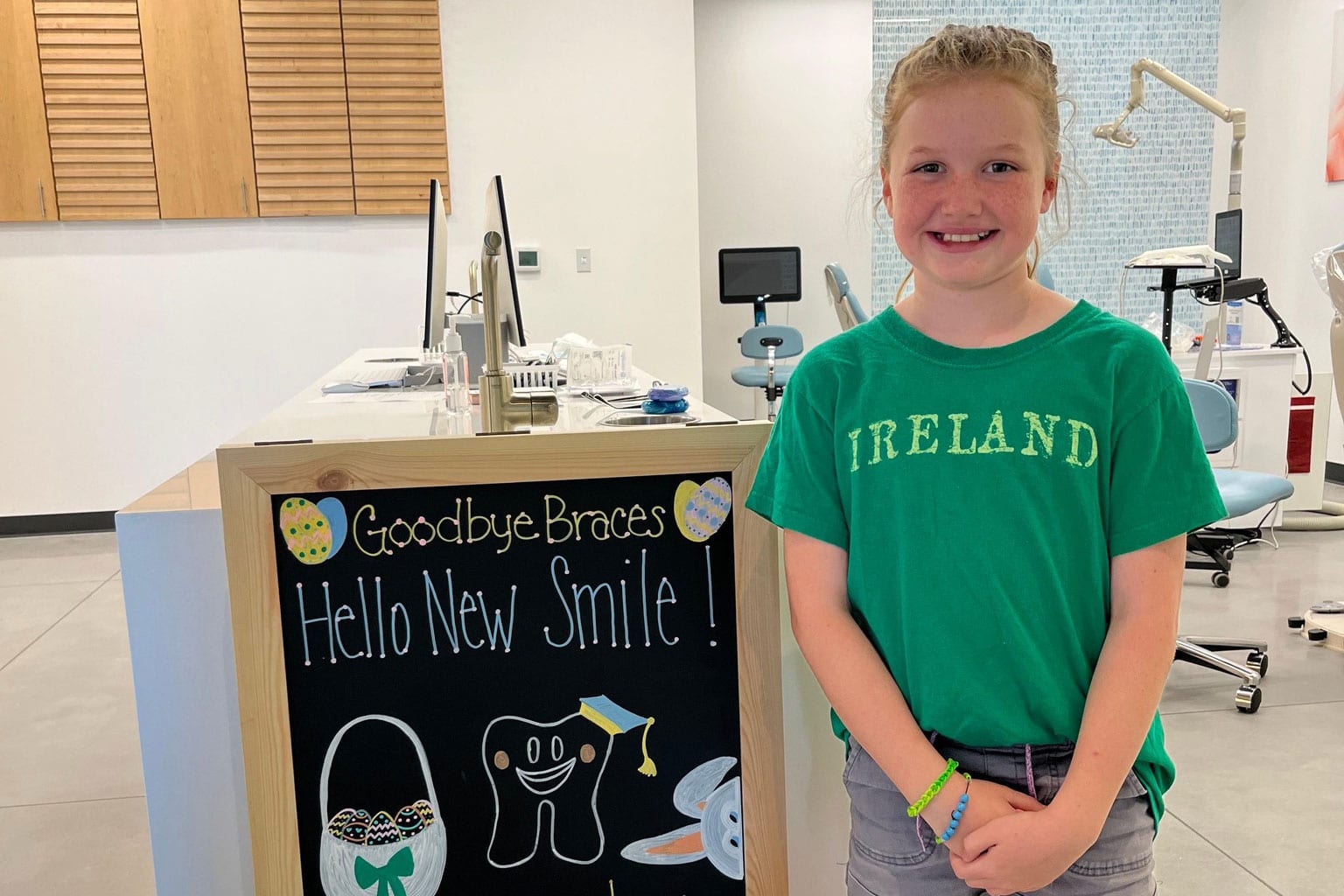 Braces For Kids
When Should My Child First See an Orthodontist?
According to orthodontic professionals, it is recommended that children receive their initial consultation with an orthodontist by the age of seven. It is recommended to start orthodontic treatment at the earliest age possible, as it can lead to optimal outcomes in orthodontic care. 
Typically, at approximately seven years of age, children experience the natural process of shedding their primary teeth and the emergence of their permanent teeth. Orthodontic treatment can be more effective and provide long-lasting results when most of the adult teeth have grown in. 
Benefits of Early Treatment
Receiving orthodontic treatment during childhood can positively impact one's oral health and promote the development of good oral hygiene practices from an early age. There are several well-documented advantages to wearing braces, including the following:
The impact on the alignment of their adult teeth is significant since the skeletal structure of children is still in the developmental stage. Orthodontic treatments, such as braces, are much more impactful at this young age.
Braces on a child's teeth may be less noticeable than those on an adult's.
Braces can effectively address negative oral habits before they escalate into more significant concerns.
A properly aligned smile improves the ability to properly clean the teeth, helping to reduce the risk of tooth decay.
Early orthodontic treatment can help prevent the development of more future dental concerns. Our team at Sakowitz Smiles Orthodontics understands the importance of early childhood treatment and loves working with the whole family! 
The Right Orthodontist for Your Child
Choosing an orthodontist you have confidence in is essential. They must also be committed to working with you to identify the optimal approach for your child's unique orthodontic needs. At our Orlando orthodontic offices in Lake Nona and Winter Gardens, FL, Dr. Sakowitz employs a conservative approach to treatment, utilizing cutting-edge methods and equipment to minimize discomfort and guarantee long-lasting results. Additionally, he places a high priority on using minimally invasive treatments.
At our orthodontic practice, we prioritize building meaningful relationships with all of our patients, particularly younger ones, as we believe this is crucial in providing optimal orthodontic care and achieving exceptional, long-lasting outcomes. As a solo practitioner, your child gets to meet with Dr. Sakowitz for all scheduled appointments. Working with the same orthodontist helps build trust and confidence with all our patients, particularly our younger ones. Research has also shown that the active participation of our young patients in their treatment process can significantly enhance their commitment to maintaining their oral health post-treatment.
At Sakowitz Smiles Orthodontics, we also prioritize the significance of both straight and healthy teeth as the fundamental elements of a stunning smile. We would be delighted to hear from you and offer a free consultation to discuss how we can assist your child in attaining a lifetime of healthy smiles. Please do not hesitate to contact us at your convenience.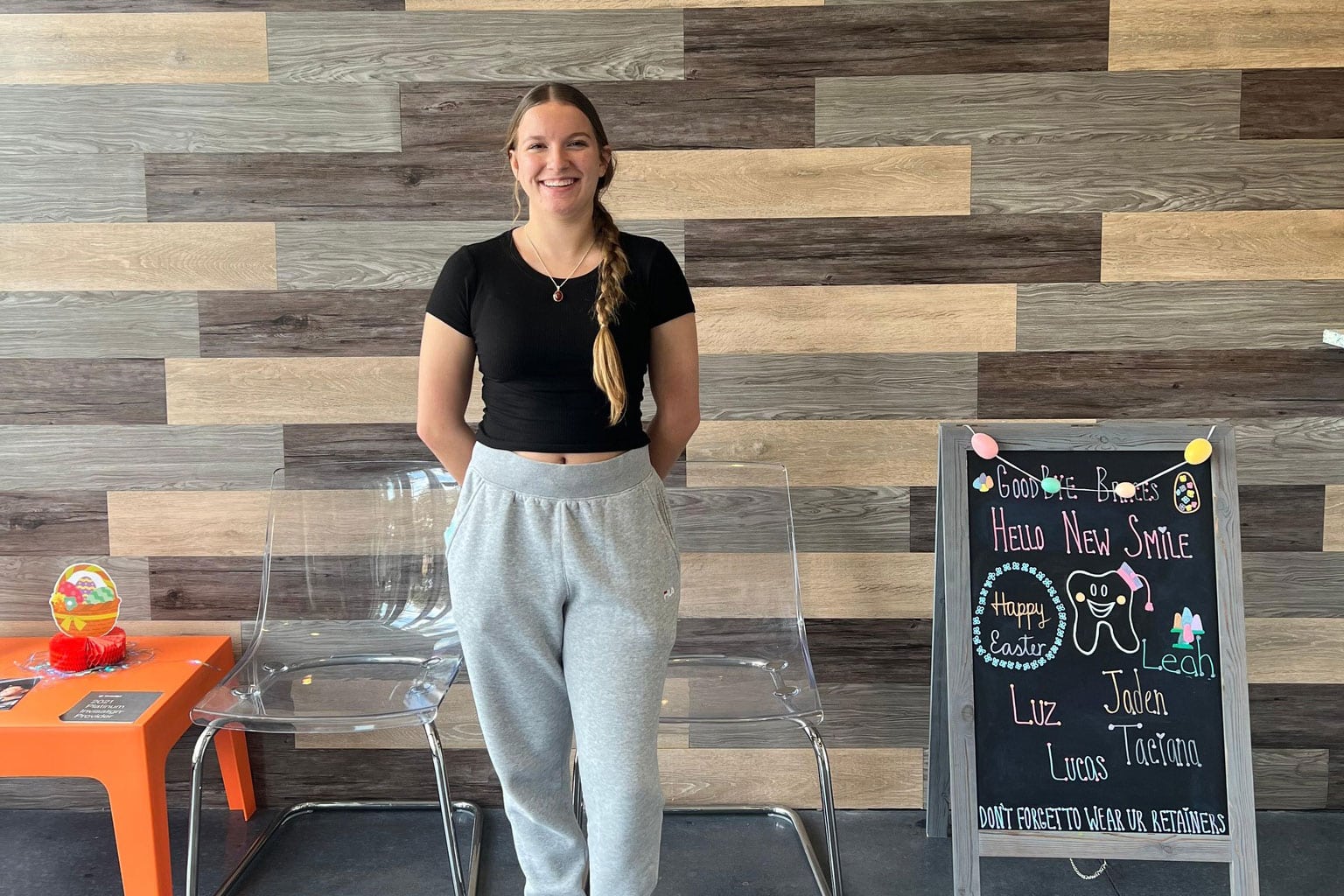 Braces For Teens
Why Orthodontic Treatment For Teens Matters 
Braces…the ultimate rite of passage for teenagers. Adolescent years are challenging enough without having to contend with a less-than-ideal smile. Our braces for teens in Orlando, Lake Nona and Winter Gardens, FL, ensure a lifetime of brighter, more confident smiles and properly aligned teeth and jaws, supporting excellent oral and physical health.
Your teen is currently at the optimal age for addressing orthodontic difficulties, as it is easier to rearrange teeth and jaws while they are still growing. Please don't make the mistake of expecting orthodontic issues to go away on their own. Treatment can become more difficult (and expensive) once face growth is complete. Your teen may also feel more at ease wearing braces when his or her peers are undergoing similar treatment.
What To Expect With Life With Braces
Whether this is your first day of braces or you are considering braces, here are some ideas of what to expect during treatment!
It is common to experience some discomfort on the first day of wearing braces. You may notice some soreness in your teeth. Typically, any discomfort you experience should subside within a few days. In the meantime, we suggest eating soft foods and smoothies while you adjust to your new braces.
Following the initial week, it is important to note that your daily routine may be slightly altered with the addition of braces. As you embark on this journey, it is important to note that you may develop new habits, such as substituting some of your preferred foods and dedicating additional time to oral hygiene. 
Ultimately, the effort you invest will give you life-altering, significant rewards. Our team at Sakowitz Smiles Orthodontics is dedicated to providing you with the best possible care and support throughout your orthodontic journey. To assist you in achieving your desired smile, we have put together a list of helpful tips.
Eating with Braces
It is important to take extra good care of your braces throughout your orthodontic treatment. Brackets, bands, and archwires on your braces are all susceptible to damage from the things you eat and your eating habits. You should avoid sticky foods, hard sweets, chips, chewing on non-food items like pens (we see you exam week), and gnawing on foods with your front teeth during your treatment. Here is a brief list of brace-friendly food swaps that you can make!
Instead of popcorn, try puff corn.
Instead of gum, try breath spray.
Instead of apples, try peeled apple slices.
Instead of hard-shell tacos, try a burrito.
Instead of hard candy, try soft desserts (cake, pudding, etc).
Instead of tough meats, try fish or rotisserie chicken.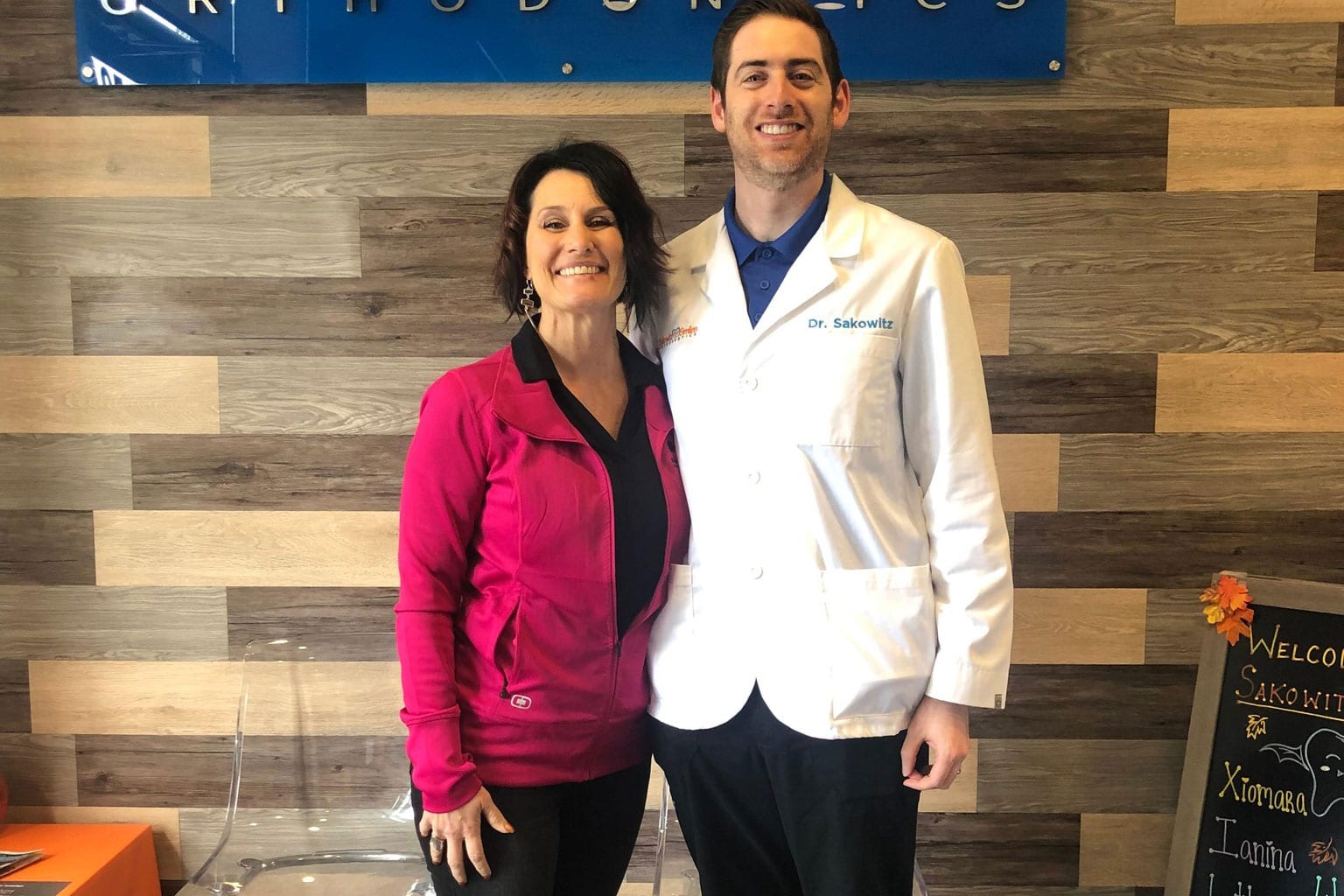 Braces For Adults
Your Guide To Orthodontics For Adults 
It is a common misconception that orthodontic treatment is only for children and teenagers. As we know, your teeth continue to shift even as you grow older, resulting in crooked teeth, a misaligned bite, or other uncomfortable side effects. It's not too late to fix your smile, whether you're unhappy with your teeth for cosmetic or health reasons. 
You can indeed have a beautiful, healthy smile at any age. For practically any adult, orthodontic treatment is a realistic option. Adults, like children, can benefit from the self-assurance that comes with a confident grin and the advantages of improved oral health. 
Adult orthodontic advancements have made treatment more comfortable and less visible than ever before. Many of today's treatment methods are designed to make the appliance as inconspicuous as possible to fit your lifestyle.
Top Reasons To Get Braces As An Adult
Though there are many reasons we could list, here are some of the top reasons to get braces as an adult:
More Options Than Ever – Thanks to the advancements in dental technology, you now have more braces options than ever to choose from. While traditional metal braces are a tried and true method, many working adults prefer a more subtle option. Discreet options, such as clear braces or Invisalign, allow you to navigate your personal and work life with minimal change to your appearance. Talk to Dr. Sakowitz and his team today about your options!
Temporary Treatment For Long-Lasting Results – For adults, the average braces treatment can last between 18 to 26 months. This depends on many factors, such as the severity of your misalignments. Dr. Sakowitz will adjust your braces every several weeks as your teeth move into their proper position. Once treatment is complete, you will also be fitted for a retainer in order to maintain your new smile!
Gain Confidence In Your Smile

– One of the first things you notice about someone is their smile. We associate straight teeth with health and, often, attractiveness. When your smile is aligned correctly, you no longer have to be self-conscious about your teeth' appearance. With properly aligned teeth, it's also much easier to maintain proper oral hygiene, meaning your teeth are cleaner and whiter. This confidence can help you with first impressions when you are going for a promotion, applying for a job, going on a date, or just meeting new people. 
Braces FAQ